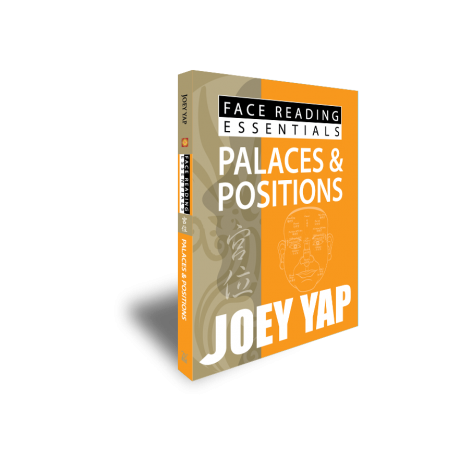  
Face Reading Essentials - Palaces & Positions by Joey Yap
Every Face Has a Story to Tell
The ancient practice of Mian Xiang is now condensed into easy-to-digest nuggets of information. If you've ever wanted to know more about people in general, and why we have such vastly different personalities, perceptions, and reactions, Face Reading is the first captivating step in a journey that will reveal plenty of interesting insights.

What You'll Learn: 
How to read your own face and those around you to better understand each other's personality and destiny
Uncover the story behind each facial feature, and the face as a whole
Decipher individual's personal story with an illustrated guide

Palaces and Positions are considered the core technique in the Art of Face Reading. The Palaces reveals how you approach life, your past, your potential for the future and your traits in relation to the twelve pertinent aspects of your life.
Chapter Highlights 
Part One: The 12 Palaces
The locations and their meanings, explained.

Part Two: The Cosmic Trinity
Go deeper into the Three Regions - Upper, Middle and Lower portion.

Part Five: The Five Officers
What are the Five Officers, and why is it crucial for you to know.

Part Eight: Six Brightness
Learn how to decipher the Six Brightness to facilitate your Face Reading knowledge.

Part Nine: The Four Academic Hall
There are eyes, forehead, teeth and ears. Discover the story behind these features.
Data sheet
Collection:

Face Reading Essentials

Pages:

153

Published in:

August 2011