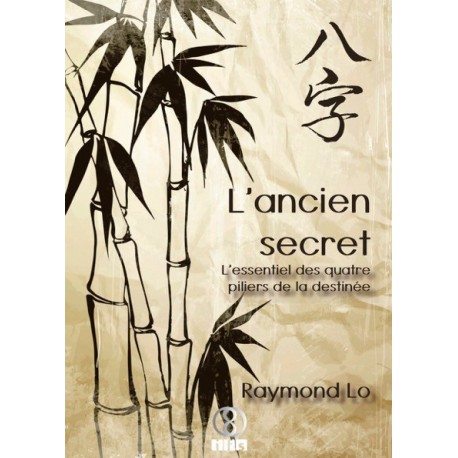  
L'Ancien Secret. L'Essentiel des Quatre Piliers de la Destinée par Raymond Lo
L'Ancien Secret constitue le premier ouvrage en langue française qui aborde de manière claire et accessible les principes essentiels du bazi, les quatre piliers de la destinée de la méta- physique chinoise.
L'auteur :
Grand Maître Raymond Lo, connu communément comme "Fung Shui Lo", est un consultant professionnel en Feng Shui et en Destinée, auteur et conférencier, qui aide les personnes à créer de l'harmonie dans leur environnement pour obtenir de meilleures relations, une meilleure santé, plus de richesse et de succès. Grand Maître Lo est apparu dans de nombreuses émissions internationales à la télévision ainsi que dans les médias internet pour introduire au monde la connaissance du Feng Shui et de la métaphysique chinoise. Il a également écrit de nombreux livres en anglais et en chinois qui ont connu du succès dans le monde entier. Nombre de ces ouvrages ont été traduits dans d'autres langues y compris le russe, le japonais, le grec, le thaï, le roumain, le polonais, l'hongrois et maintenant, le français.
Originaire de Hong Kong, Grand Maître Lo a obtenu un diplôme en Sciences Sociales de l'Université de Hong Kong. Consultant Feng Shui de renommée mondiale et enseignant avec des clients et des étudiants dans le monde entier, il fonda la Raymond Lo School of Feng Shui and Destiny, qui fournit une solide formation à des personnes de différents pays qui souhaitent adopter le Feng Shui comme carrière professionnelle. Cette école offre des formations dans le monde entier, y compris à Singapore, en Australie, en Allemagne, au Japon, en Turquie, en Roumanie et en Russie. De nombreux élèves diplômés de son école sont devenus des consul- Biographie officielle de l'auteur (extrait) : tants Feng Shui, des professeurs et écrivains connus dans leurs pays respectifs. En 2008, la célèbre International Feng Shui Association de Singapore a conféré à Raymond Lo le titre de Grand Maître pour sa grande contribution à cette industrie.