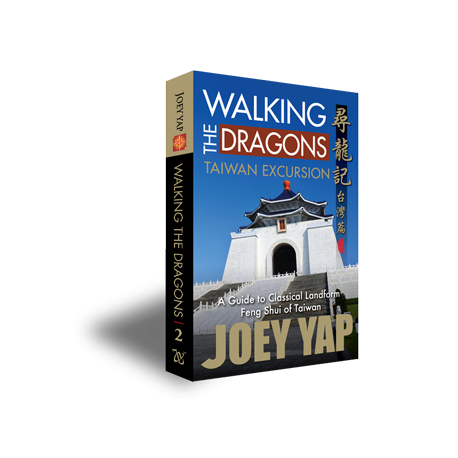  
Walking the Dragons: Taiwan Excursion by Joey Yap
Walking The Dragons 2: Taiwan Excursion

A Guide to Classical Landform Feng Shui of Taiwan

From China to Tibet, Joey Yap turns his analytical eye towards Taiwan in this extensive Walking the Dragons series. Combined with beautiful images and detailed information about an island once known as Formosa, or "Beautiful Island" in Portuguese, this compelling series of essays highlights the colourful history and wonders of Taiwan. It also provides readers with fascinating insights into the living science of Feng Shui.

​Rich in descriptive narrative and historical detail, Walking the Dragons: Taiwan Excursion, will draw readers into a new world of discovery and with each page, one will be able to witness the country's stunning architecture and beautiful landscapes that make Taiwan a popular destination for all.

Turn the pages of this captivating book to discover: 
Prominent resting places of Taiwan's political icons such as Chiang Kai Shek and Song Da, and its rich and powerful business tycoons

Famous and beautiful temples in Taiwan
The ancestral homes of Lee Teng Hui, the father of Taiwan's democracy and other influential figures in the country
The magnificent Buddhist monasteries located high on the mountains of Taiwan
Chapter Highlights 
Chapter One: Introduction the Feng Shui of Taiwan

Chapter Two: Power & Politics

Chapter Three: Wealth & Influence

Chapter Four: Famous Temples in Taiwan

Chapter Five: Spirituality in The Mountains

Chapter Six: Influential Residences
Data sheet
Pages:

457

Published in:

January 2016