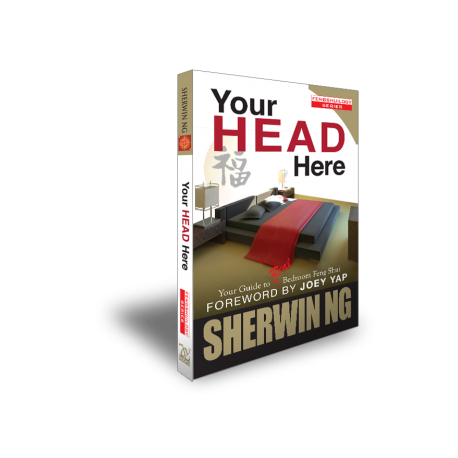  
Your Head Here. Your Guide to Real Bedroom Feng Shui by Sherwin Ng
Tax included
Please allow 3 weeks for delivery
Are You Sleeping In The Right Sector?
An accomplished student of Joey Yap and an experienced Feng Shui consultant and instructor, Sherwin Ng attempts to break away from all bedroom drama, and present a neat and do-it-yourself approach to a balanced and healthy Feng Shui in your bedroom.

What You'll Learn: 
A concise, complete introduction on bedroom Feng Shui
The dos-and-don'ts of bedroom, and why
An introduction to mountains and external Feng Shui
All 16 Flying Stars chart for Period 7 and Period 8 houses
Identifying the Flying Star Chart of your property
Chapter Highlights 
Chapter One: An Introduction to Mountains and Feng Shui
The connections between mountains and your bedroom are explained.

Chapter Two: Feng Shui Rules for the Bed
Have a peaceful night sleep with these Nine General Rules to Bedroom Feng Shui. 

Chapter Three: Mountainology
Dwells a little more on mountains, the natural Yin component of the lands. 

Chapter Four: Using This Book
Get down to the fuss-free way of ascertaining the Flying Star chart for your property.

Chapter Five: Homes Facing in Period 7
Knowing the positive sector for your bed in a Period 7 house can give you the edge. Learn it all here. 

Chapter Six: Homes Facing in Period 8
Period 8 house and its best position for the bed – all revealed. 

Chapter Seven: Bedroom (Feng Shui) Secret
A look into what to do after selecting a positive bedroom position.
Data sheet
Pages:

107

Published in:

August 2011