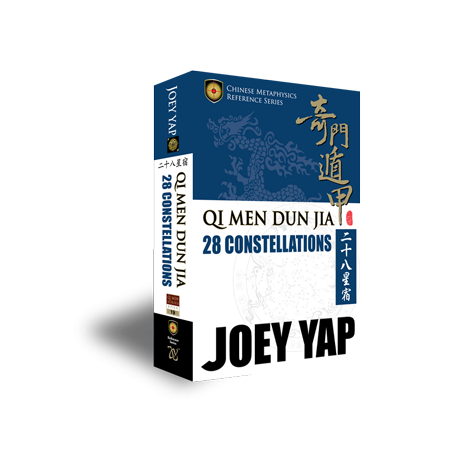  
Qi Men Dun Jia 28 Constellations (QMDJ Book 19) by Joey Yap
Qi Men Dun Jia 28 Constellations
The First Definitive English Reference to the Chinese 28 Constellations
The first book of its kind in English, Qi Men Dun Jia 28 Constellation sheds light on the oldest star cataloguing systems in the world. Collecting information from associated mythology to Chinese metaphysical significance, this book is the definitive reference for the Chinese Metaphysics enthusiast - especially if you are a Qi Men Dun Jia practitioner.

What You'll Learn: 
The background and history of the Chinese 28 Constellations
The metaphysical knowledge associated with every constellation and their comprehensive applications in the various branches of Chinese Metaphysics, especially Qi Men Dun Jia
The mythological lore of each constellation
The astrological significance of the 28 Constellations and their effects on key life aspects

Chapter Highlights 
Chapter One: Introduction and History
Get acquainted with the background and history of the 28 Constellations.

Chapter Two: The 28 Constellations
Learn about the individual constellations with each other their astronomical, metaphysical and astrological information.
Data sheet
Collection:

Qi Men Series 19

Pages:

262

Published in:

November 2015