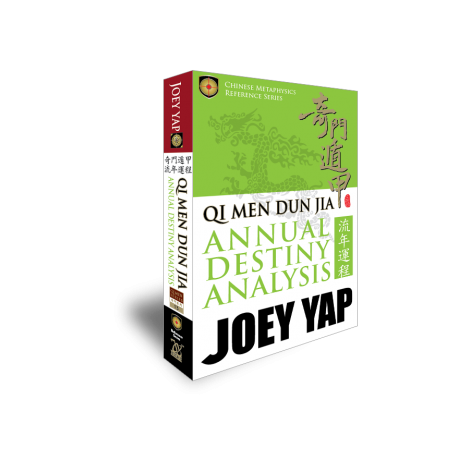  
Qi Men Dun Jia Annual Destiny Analysis (QMDJ Book 14) by Joey Yap
Your Go-To Reference for Annual Destiny Reading
Written with a "look-up-and-refer" style format, the Qi Men Annual Destiny Analysis is a simplified, easy-to-use reference for performing an instant Annual Destiny Assessment reading. Therefore, you can immediately dive down to the core of analyzing a Qi Men Destiny Chart - in a no-hassle way. Whether it is on Personality, Career, Business, Relationship, Family, Health and Academic Pursuits - this book contains all the necessary information that helps to unravel the burning questions about your future.

What You'll Learn: 
Essential reference for Qi Men Dun Jia Annual Destiny Analysis
The history of Qi Men Dun Jia and its application then and now
The representation of the Ten Stems as Life Stems
The 8 Doors Analysis based on combo with the Ten Life Stems
Annual Luck Forecast on key aspects of life, including one's affinity with others, travel luck, health status, career path and financial outlook
Chapter Highlights 
A. Brief Introduction to Qi Men Dun Jia
Get to know your fundamentals to Qi Men in this integral section on Qi Men history, methodologies and applications. 

B. Annual Destiny Door Reference Tables
Details out the Upper, Middle and Lower Tables for easy reference.

C. Astrological Annual Luck Forecast Analysis
How does your life fare each year in terms of key aspects like Wealth, Health and Relationship? Boost your general outlook with the Qi Men forecasts presented.
Data sheet
Collection:

Qi Men Series 14

Pages:

257

Published in:

July 2013