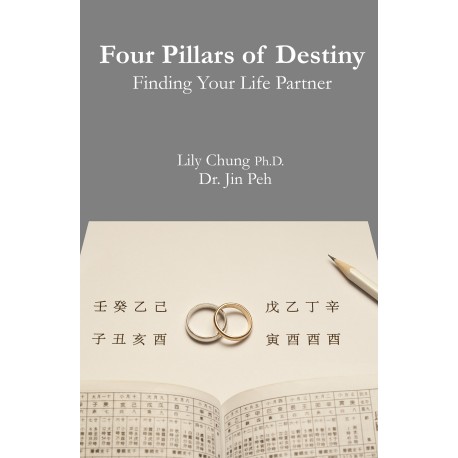  
Four Pillars of Destiny: Finding your Life Partner by Lily Chung Ph.D. and Dr. Jin Peh
Please allow 3 weeks for delivery
Traditionally, the Four Pillars of Destiny method has been used by parents in Chinese communities to assess the potential of life partners for their children. In our modern age, the Four Pillars can still guide us in both our personal and working relationships. This book shares with you analytical techniques that are used to ascertain the suitability of partners.
For the first time in English, readers will be able to read about the influence of the House of Spouse and the Spouse Element in a Four Pillars chart. Through the use of real-life examples, the concepts of Affinity and Compatibility between individuals will also be introduced.
Once you have grasped the principles that govern relationships, not only will you be able to identify individuals with whom you can work with, you will also have the insight to find the right person to share your life with.
This book discusses how the five elements work on relationship, how people connect and depart, why some are destined to enjoy a great spouse while others have to struggle to get their fair share. It uses many well-known celebrities as illustrations.
Biography:
Lily Chung (鍾月萍), Ph. D. (Geography, University of Minnesota, United States), taught college geography in the United States & Hong Kong, and metaphysics (Feng Shui, divination, I Ching) in San Francisco City College, held workshops in Europe, Canada and the United States since 1996. She is also a lecturer on life-enrichment Feng Shui on cruise lines. A columnist of metaphysics since 2003 in several newspapers, Lily currently writes for the California Property Guide (in San Francisco) & www.womensradio.com. Lily has used metaphysics and natural laws in the I Ching to help thousands of people understand their life energy, achieving harmony by attuning to the cosmic energy system and following natural laws. She is currently residing in the Bay Area of California, practicing and tutoring Chinese metaphysics.
Dr. Jin Peh grew up in Singapore and Perth, Australia where he completed his medical training at the University of Western Australia in 1996. Upon completion of his medical internship, Jin then took an Associate Degree of Broadcasting Journalism at the West Australian Academy of Performing Arts. From 2000 to 2002, Jin completed a Feng Shui apprenticeship in Taipei, Taiwan with renowned Feng Shui master Chen Chien Lee. Jin also wrote a weekly Feng Shui column with the main English newspaper in Hong Kong, the South China Morning Post from 2005 to 2011. In 2010, a compilation of his Feng Shui columns was published as Feng Shui: A Hong Kong Perspective. Jin practices and teaches Chinese Astrology. In 2013, he published with his teacher and co-author Lily Chung Four Pillars of Destiny Discover Your Code To Success. In 2014, Jin and Lily Chung co-authored Four Pillars of Destiny Finding Your Life Partner.
Data sheet
Pages:

241

Published in:

30/05/2014

Weight:

0.440 kg