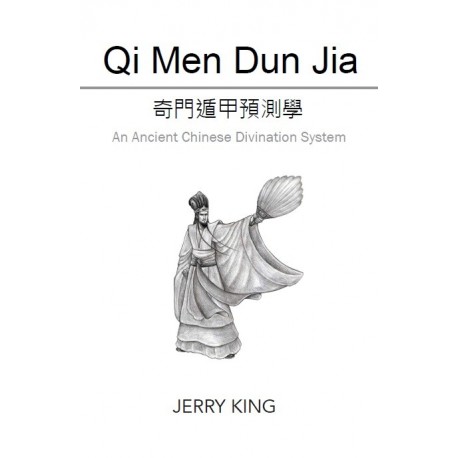  
Qi Men Dun Jia: An Ancient Chinese Divination System by Jerry King
This book seeks to explain the theories behind an ancient Chinese divination system, Qi Men Dun Jia (奇門遁甲). Real-life situations are analyzed to illustrate how the theories of Qi Men Dun Jia are applied and how the outcomes can be determined through the logic of this system. Qi Men Dun Jia: An Ancient Chinese Divination System covers a wide range of topics suitable for readers of all levels, from those who are just starting to learn about this method all the way to advanced practitioners. In the past, Qi Men Dun Jia was often used for strategizing in combat and war; but today, practitioners are utilizing this method effectively in business matters, career, health, relationships, lawsuits, Feng Shui remedies, and numerous other aspects of daily life.With this book, you will have the opportunity to learn and apply the theories of Qi Men Dun Jia. Many of the formulas written in the Chinese classics are translated and explained in this book. By understanding the intricacies of this method and knowing how to apply the theories, you can use Qi Men Dun Jia in a way that effectively improves others' lives and helps you make better life decisions.
Biography:
Jerry King, founder and President of White Dragon Consulting is an international Feng Shui and Four Pillars author and teacher, based in Vancouver Canada. Jerry is a dynamic and highly respected speaker, having been invited to present at a number of events; those include the 2010 Vancouver Winter Olympic Games, the 2010 Feng Shui Masters Convention in Melbourne Australia, the AFSC Feng Shui Conference in Sydney, and the Feng Shui Society of the UK in London. Jerry also provides commentary on Feng Shui and Four Pillars of Destiny on many Feng Shui related websites including Feng Shui Today. Jerry is also one of the first Chinese Feng Shui masters to conduct a professional Chinese Metaphysics solely in Spanish without a translator, thus minimizing the amount of information lost in translation.
Jerry received private Four Pillars of Destiny (Bazi) and I Ching training from Dr. Lily Chung in San Francisco, a world renowned expert in Eastern Metaphysics, specializing in Four Pillars and the I Ching. He has studied Feng Shui and Four Pillars under various masters in Taiwan and Hong Kong. Jerry also specializes in Qi Men Dun Jia. Jerry travels extensively, consulting globally and obtaining research data and verifying theories of cosmic flow in the Four Pillars of Destiny. Jerry is fluent in English and Chinese with a firm grasp of Spanish and knowledge of Arabic. He has lived in China, Yemen, Spain, and Ecuador and has travelled to more than 35 countries around the world. Jerry has a BA in Political Science and a Masters degree in Communications. Having worked in the technology field as a software engineer for more than ten years, Jerry has utilized his expertise in logic and programming to decode patterns within Bazi, Qi Men Dun Jia, Purple Star Astrology and Feng Shui methods.
Data sheet
Pages:

230

Published in:

06/09/2014

Weight:

0.395 kg