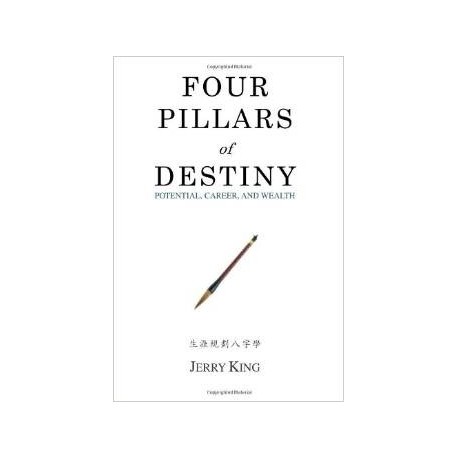  
Four Pillars of Destiny: Potential, Career and Wealth by Jerry King
Why is it so easy for certain people to obtain success in their career? This guide seeks to enhance your understanding of the potential and capabilities given to us at birth. Trapped inside of you, waiting to be realised, is an incredible potential. Using the year, month, day, and hour of your birth, you can use the ancient Chinese astrological method of Four Pillars to systematically map out the blueprint of your life in matters of health, wealth, career, love, and happiness. Learn how the five-element theory, cosmic flow, combinations, the Ten Gods, and special stars pertain to the context of your career, potential, and wealth. Grounded in real-life case studies, the influence of cosmic energy on your choice of career and many aspects of life is explained. This manual also teaches you how to interpret the indicators in your life so you'll know when to take risks-and when you should be conservative. Have you ever wondered just how energy factors into your choices? And how you should choose a career that will truly fulfill your interests, skills, and talents? You will learn to see the crucial role that energy and fl ow play in creating opportunities for success, timing of investments, and job satisfaction. Note: This is a reprint of Four Pillars of Destiny: Potential, Career, and Wealth with updates on a few charts and text changes.
Biography:
Jerry King, founder and President of White Dragon Consulting is an international Feng Shui and Four Pillars author and teacher, based in Vancouver Canada. Jerry is a dynamic and highly respected speaker, having been invited to present at a number of events; those include the 2010 Vancouver Winter Olympic Games, the 2010 Feng Shui Masters Convention in Melbourne Australia, the AFSC Feng Shui Conference in Sydney, and the Feng Shui Society of the UK in London. Jerry also provides commentary on Feng Shui and Four Pillars of Destiny on many Feng Shui related websites including Feng Shui Today. Jerry is also one of the first Chinese Feng Shui masters to conduct a professional Chinese Metaphysics solely in Spanish without a translator, thus minimizing the amount of information lost in translation.
Jerry received private Four Pillars of Destiny (Bazi) and I Ching training from Dr. Lily Chung in San Francisco, a world renowned expert in Eastern Metaphysics, specializing in Four Pillars and the I Ching. He has studied Feng Shui and Four Pillars under various masters in Taiwan and Hong Kong. Jerry also specializes in Qi Men Dun Jia. Jerry travels extensively, consulting globally and obtaining research data and verifying theories of cosmic flow in the Four Pillars of Destiny. Jerry is fluent in English and Chinese with a firm grasp of Spanish and knowledge of Arabic. He has lived in China, Yemen, Spain, and Ecuador and has travelled to more than 35 countries around the world. Jerry has a BA in Political Science and a Masters degree in Communications. Having worked in the technology field as a software engineer for more than ten years, Jerry has utilized his expertise in logic and programming to decode patterns within Bazi, Qi Men Dun Jia, Purple Star Astrology and Feng Shui methods.
Data sheet
Pages:

362

Published in:

10/01/2013

Weight:

0.5 kg