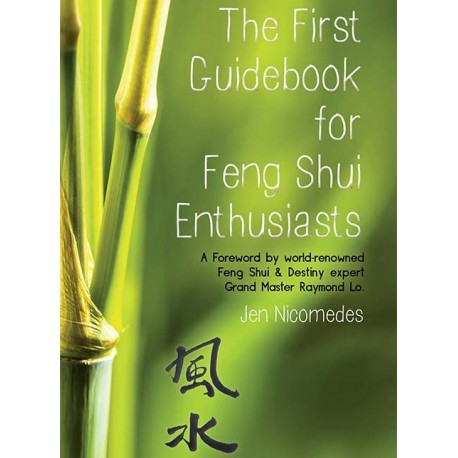  
The First Guidebook for Feng Shui Enthusiasts by Jen Nicomedes
Introduce yourself (or a friend) to the fascinating world of Classical Feng Shui and Chinese Metaphysics. This fun, comprehensive book demystifies the different schools of Feng Shui, concepts like the Five Elements, Qi, and Yin and Yang, and covers basic principles of Forms, Eight Mansion, and Flying Star Feng Shui. It also debunks common Western myths, misconceptions, and "new age" ideas around this authentic, ancient Eastern practice.
Jen includes many practical examples that are easy for anyone to follow, appreciate, and apply. This book is great for first-timers and professionals alike and includes a foreword by world-renowned Feng Shui Grand Master Raymond Lo of Hong Kong.
Personal Background:
Jen was born and raised in Hong Kong to a professional singer/musician father and a teacher/businesswoman mother. Growing up in the metropolitan city, she learned to embrace the multilayered cultures and languages of the West and the East, as well as the traditional heritage of her Spanish and Filipino family background. Her childhood was immersed in the creative arts with singing, piano playing, and music.
At 13, her family immigrated to Honolulu, HI., before settling in and graduating from high school in Ontario, OR. Adapting to a more rural upbringing, Jen learned to appreciate her new western life and new friends.
Over the next 15 years, Jen lived in Boise, ID, Portland, OR, Chicago, IL, and Las Vegas, NV, before finally calling Arizona her home. She spent 12 years as a financial and forensic auditor for KPMG, PricewaterhouseCoopers, and First Solar, a publicly-traded energy company. She completed her undergraduate studies at the University of Illinois at Chicago with a Bachelor's degree in Accounting. She is also a registered Certified Public Accountant for the State of Illinois.
Despite her successes in the corporate world, Jen felt something else was deeply missing – a void that got louder and more pronounced as years passed.
When she finally discovered this newfound calling as an entrepreneur, Jen left her corporate life behind and bravely charted the new life. Jumping into this new territory did not come without challenges; however, her new life has gifted her with a great purpose and more blessings than she ever dreamed of receiving.
Today, her Feng Shui business, real estate work, and writing offer so much more heart and spirit because she understands what it means to work hard for something you absolutely love. Her passion and view of the world and people around her are reflected in her consultations, her writing, and her work. And she genuinely cares about the success and growth of her clients and those she is blessed to work with.
Data sheet
Pages:

220

Published in:

23/05/2014

Weight:

0.395 kg