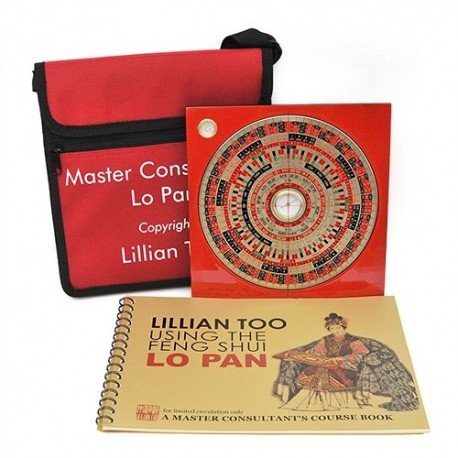  
Lillian Too's Master Consultants Luo Pan with Manual
Grand Master Lillian Too's Luo Pan for Professional Feng Shui Consultants
This professional Luo Pan will put you in complete control during consultations as you have all the advanced feng shui formulas at your fingertips: the Early and Later Heaven Trigrams and numbers, the Lo Shu numbers, the Ho Tu number combinations, the 24 Mountains, the 120 Divisions of Gold, the Earthly Branch directions, the Eight Mansions formula, the Kua Numbers, the Flying Stars for Perdiod 8,... This Luo Pan comes complete with a protective case and a 32-page fully illustrated manual on how to use the Luo Pan. Lillian Too explains each of the 15 rings and how to interpret and use each one effectively when undertaking a feng shui consultation. Each page is illustrated with comprehensive diagrams for you to familiarize yourself with this powerful feng shui tool and Lillian's precise writing style makes it easy to learn and instantly usable.
This Luo Pan is made on demand. Delivery time: +/- 3 weeks.

Our

students enjoy a special price on this tool. Please contact us for more information.
Data sheet
Weight:

0.750kg

Width:

21.5 cm

Length:

21.5 cm