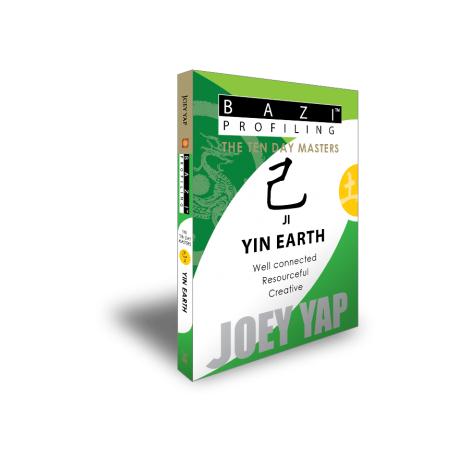  
BaZi Profiling - The Ten Day Masters - Ji (Yin Earth) by Joey Yap
Who You Are at the Most Fundamental Level
Being the most important reference point for BaZi analysis, The Day Master represents the true essence of your character and personality traits, and signifies your qualities, quirks, strengths and weaknesses. Joey Yap's BaZi Essentials Series divides the 10 Day Masters into individual mini book where each of their traits in terms of Character, Career, Relationships and Wealth are explored. Understand who you are truly and let your personality thrive.

What You'll Learn: 
Understand what you are on the exterior - your personality or character traits that are visible to everyone
Discover the hidden, sometimes buried, side of you
Deepen your understanding on your basic nature and character
Know how you'll act from a business, wealth, and relationship point of view
Ji (Yin Earth)
Imagine the soft, pliant resourceful soil of the land. The Ji Earth Day Master personality in a nutshell is productive, creative, and capable. You nurture and care for the people in your life. Being a multi-talented multi-tasker is a mere walk in the park for you!


Chapter Highlights 
Part One: Character
Explore your character based on your personality, thinking and judgement and self-confidence. 

Part Two: Career
Get a low down on your business acumen, business personality and leadership skill.

Part Three: Relationship
How you behave around your friends and colleagues could be determined by your Day Master. Find out here.

Part Four: Wealth
Money-matters, from Day Master point of view.
Data sheet
Collection:

BaZi Essentials. The Ten Day Masters

Pages:

115

Published in:

July 2009