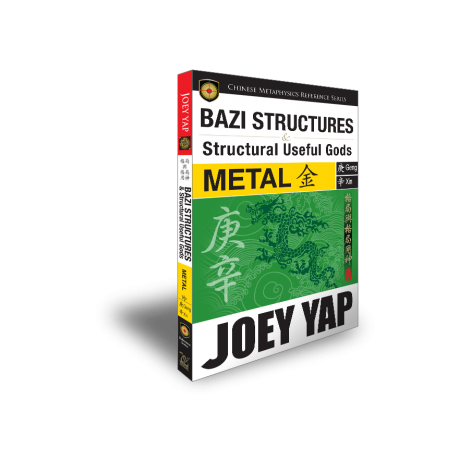  
BaZi Structures and Structural Useful Gods - Metal by Joey Yap
The Perfect Partner to Your BaZi Study
This book is the needed companion in your effort to better understand how BaZi structures are devised and read traditionally. Along the way, you'll also acquire the skill to analyse and interpret these structures on a deeper level, from the viewpoint of ancient methodology of this highly-precise art. This handy reference also included transliterated versions of traditional texts in keeping up with today's increasing number of English-speaking Chinese Metaphysics enthusiasts.

What You'll Learn: 
The attributes of Geng and Xin Metal respectively in each of the 12 months
The Regulating Useful God Reference Guide for each of the 12 months
Detailed classical commentary on the factors affecting the overall strength of the Day Master in the different months
Additional attributes that may affect the Day Master depending on different Structures and Useful Gods
A summary for each month for Geng and Xin Day Masters respectively
Chapter Highlights 
Part A: Geng Metal Day Master
Geng Metal Day Master's function in each month of a year are discussed and explained with clear tables and notes. 

Part B: Xin Metal Day Master
Elaborates with detailed commentaries the attributes of Xin Metal in twelve-month period of a year.
Data sheet
Collection:

BaZi Structures and Structural Useful Gods

Pages:

196

Published in:

June 2009