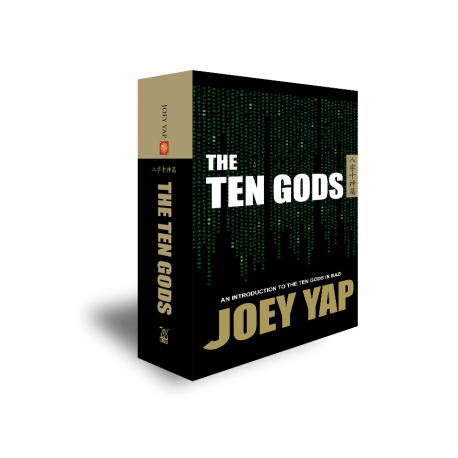  
BaZi - The Ten Gods by Joey Yap
An Introduction to The Cornerstone of BaZi
A thorough and detailed understanding of the Ten Gods is essential for anyone seeking to master BaZi beyond the beginner level. The ground-breaking The Ten Gods presents a one-of-a-kind reference on this subject in ways never attempted before by any Chinese or English reference books. To advanced, intermediate or even novice students, this collection of knowledge will be one of the most integral points of reference in their study of Destiny Analysis.

What You'll Learn: 
A thorough introduction to the concept of the Ten Gods
The traits and characteristics of each of the Ten Gods, as well as matter represented by each of them
Incorporates both classical/traditional and modern interpretations and viewpoints of each of the Ten Gods
The key basic principles relating to the Ten Gods
Analysis techniques utilizing each of the Ten Gods
Basic BaZi principles like Favorable and Unfavorable Elements and the Strength of Individual Elements
Chapter Highlights 
Chapter One: There Are Ten
Presenting an introduction to the significances and relationships of the Ten Gods.

Chapter Two: The Destiny Code Building Blocks
Basic concepts are touched upon, along with a quick recap on key concepts.

Chapter Three: The Output Stars
The Output Stars - a detailed examination.

Chapter Four: The Wealth Stars
Wealth Star being analysed for its essentials, permutations and characteristics.

Chapter Five: The Influence Stars
Establish better understanding on The Influence Stars.

Chapter Six: The Resource Stars
Know more about the Quality, Characteristics and Attitudes of Resource Stars.

Chapter Seven: The Companion Stars
A comprehensive look at the star that defines who we really are.
Data sheet
Pages:

538

Published in:

December 2010