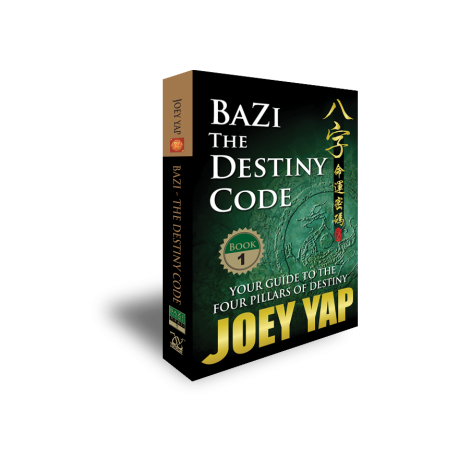  
BaZi - The Destiny Code (Book 1) by Joey Yap
Understand the DNA Coding of Your Destiny
Just like DNA to a physical body, BaZi dictates the Destiny Code - that are the talents, the hidden abilities, the character, strengths, weaknesses, challenges in life, and achievements - of an individual. In this introductory book on BaZi or Four Pillars of Destiny, Joey Yap ventures deep into the essence of Personality Analysis to foster a more accurate and informed understanding, beyond the conventional Chinese Astrology reading.

What You'll Learn: 
Plot your personal BaZi (Destiny Code) Chart
Understand your character and personality model
Determine your favourable or unfavourable career options
Analyse your Wealth potential and capacity of your life
Maximise your opportunities in life
Discover and utilise your hidden talents
Improve personal and family relationships
Optimise your performance
Chapter Highlights 
Chapter One: What Is BaZi All About? 
The basic tenets of BaZi and its comparison to another Chinese Astrology system.

Chapter Two: The Heavenly Stems and Earthly Branches
The Ten Heavenly Stems, the Twelve Earthly Branches and its connection explained.

Chapter Three: Unveiling the Code of Heaven
The nitty-gritty on BaZi chart plotting begins here. 

Chapter Four: Have You Got The Luck? 
Your Luck Cycle and Luck Pillars reveal it all. 

Chapter Five: BaZi Fundamentals
A basic study in Yin and Yang, Qi (energy), the Five Elements and its interactions.

Chapter Six: Finding the Favourable Element
Decipher the Day Master, the Four Seasons and one's Favourable Element.

Chapter Seven: The Five Factors
A study on balancing your BaZi with the Five Factors.

Chapter Eight: Will I Be Rich?
Capitalising your Wealth Element can give you an edge.

Chapter Nine: Prince Charming and Miss Right - All About Romance
Relationships and love, BaZi-style. 

Chapter Ten: The Power of BaZi
Open your mind to the benefits of BaZi in all areas of your life.
Data sheet
Collection:

BaZi - The Destiny Code

Pages:

300

Published in:

February 2005