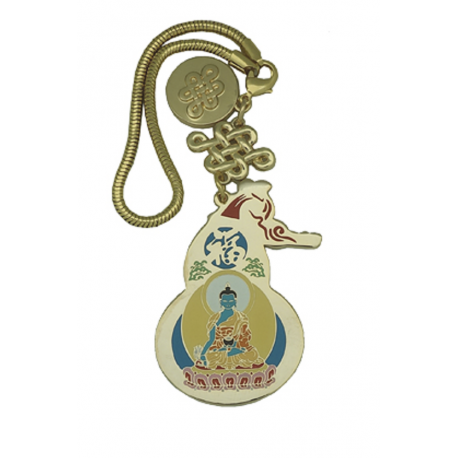  
Medicine Buddha Wulou Amulet
The Medicine Buddha not only helps in healing but also for overcoming the inner sickness of attachment, hatred, and ignorance. Thus the Medicine Buddha can help decrease physical and mental illness and suffering. The Medicine Buddha mantra is held to be extremely powerful for healing of physical illnesses and purification of negative karma. Anyone who is stricken by disease can seek blessings from the Medicine Buddha for curing. Behind the amulet, the sacred "Medicine Buddha mantra" will:
1. purify negative karma and assist those who are having long term illness so that they can live a longer life. 
2. strengthen the antibodies of those who have a weak body and often falling sick. 
3. keep all types of illness energy due to unpopular stars at bay. 
4. help cure mental depression and mental illnesses.