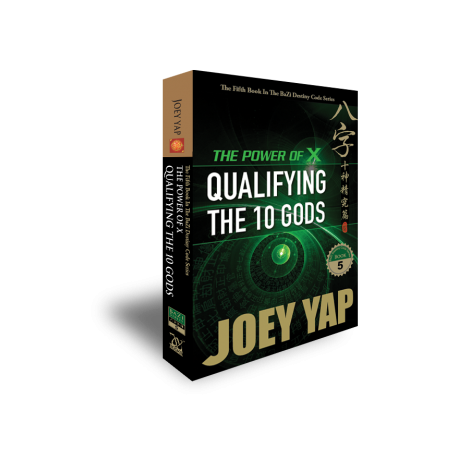  
BaZi - The Power of X : Qualifying the 10 Gods (Book 5) by Joey Yap
TTC
Prévoir 3 semaines pour la livraison
Please allow 2-3 weeks for delivery
Elevate Your BaZi Knowledge to Another Level
The oft-mentioned topic of the quality of the Five Elements in a BaZi Chart and the topic of Missing Elements are explored in great details in this fifth instalment to the immensely popular Destiny Code Series. Take your knowledge and analysis of BaZi to the next level by adding detailed knowledge of assessing the quality of the individual Five Elements and 10 Gods within the BaZi Chart.

What You'll Learn: 
The concept of Quality of an Element and Quality of a 10 Gods means within the context of BaZi
Techniques to assess the quality of the Five Elements in a BaZi chart
Understanding the concept of Missing Elements
Step-by-Step method for analysing your own BaZi chart and determining the quality of every single 10 Gods
Deriving conclusions about a person's Character based on the quality of the 10 Gods
Analysing Wealth, Career, Relationship and Health Matters within a chart
Developing smart action plans to help offset the challenges and obstacles created by poor quality Elements or 10 Gods
Chapter Highlights 
Chapter One: This Little Thing called Quality
An introduction to the concept of Quality of the 10 Gods.

Chapter Two: Quality as Defined by Strength
Understanding Strength of the Day Master, the Five Elements and the 10 Gods in the BaZi chart.

Chapter Three: Poor Quality as defined by the Weak Element
A detailed exploration into the Weak Element and differentiating the Good and Poor qualities.

Chapter Four: The Missing Element and the Question of Quality of an Element
An in-depth study into the quality of an Element from the standpoint of a Missing Element.

Chapter Five: The Walk Through
A practical walk-through on the process of quality analysis of a BaZi chart.

Chapter Six: Interpreting the Quality of the 10 Gods in a BaZi chart
Understanding the importance of bringing quality interpretation to the next level with realistic solutions.

Chapter Seven: Quality of the 10 Gods and Career, Health, Wealth and Relationships
Analysis techniques according to the career, health, wealth and relationship aspects in life.
Fiche technique
Collection :

BaZi - The Destiny Code

Pages :

362

Publication :

July 2012