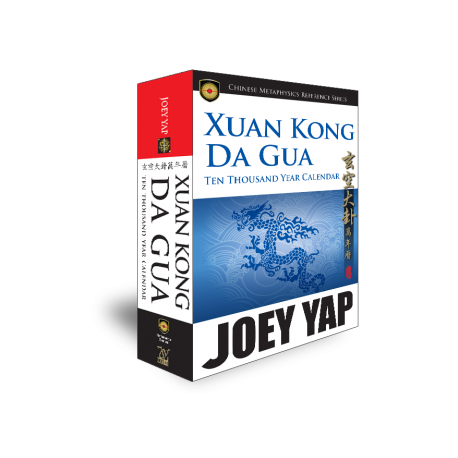  
Xuan Kong Da Gua Ten Thousand Year Calendar by Joey Yap
Reliable, definitive and comprehensive 
Students, teachers and practitioners in need of a handy one-stop reference calendar for Xuan Kong Date Selection, look no further. This reliable guide is an indispensable source for activities related to Feng Shui, Date Selection and as well as a dependable partner for carrying out Yin House Feng Shui. Presenting 1950 to 2050 in one trusty package, this reference is as vital and handy as a reference could get.

What You'll Learn: 
The Hour, Day, Month and Year Hexagrams
The 'Monthly Flying Stars' as well as the monthly 'Three Killings' location
The 'Xuan Kong Element' and 'Period Luck' number for each Hexagram
The Transition Dates of each month (As in the Chinese Solar Calendar)
Chapter Highlights 
Index of 60 Jia Zi (1950 - 2050)
With calendar format, referencing is a breeze for students and practitioners alike. Pick the right date - past, present or future - to facilitate, predict or even create certain outcomes or results through the correct application of the precise technique.
Datasheet
Reeks:

Reference Series

Paginas:

808

Verschijningsdatum:

August 2008