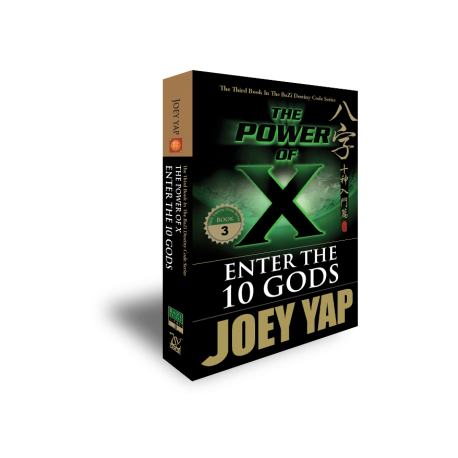  
BaZi - The Power of X : Enter the 10 Gods (Book 3) by Joey Yap
TTC
Prévoir 3 semaines pour la livraison
Please allow 2-3 weeks for delivery
Behold, The 10 Gods
The first book in the Power of X series picks up where BaZi - The Destiny Code Revealed left off and invites reader into the next phase of Destiny Analysis - The Four Pillars of Destiny: The 10 Gods. Through this book, readers could enhance their technical foundation in which to understand the broad and ever-growing topic of the 10 Gods. You can jumpstart your success today if you understand how to translate awareness of yourself into positive actions.

What You'll Learn: 
The essential characteristics and traits represented by each of the 10 Gods
Simple but effective methods in which to analyse and understand a person's Character through their BaZi
Introductory techniques for analysing a Wealth, Career and Relationships matters using the 10 Gods
A practical walk-through section to analysing your own BaZi chart using the 10 Gods and the techniques explained in this book
How to translate Bazi analysis into Bazi-centric action for success and achievement in all facets of life
Chapter Highlights 
Chapter One: A New Beginning
An introduction to the 10 Gods and its concept.

Chapter Two: Deriving the Ten Gods
The basics of Five Elements and Five Factors, and understanding the Strength of the Day Master and Element on a BaZi chart. 

Chapter Three: The 10 Gods Essentials
A detailed exploration into the positive and negative attributes of each of the 10 Gods.

Chapter Four: Analysing Character through the 10 Gods
Understanding the basic 10 Gods character analysis techniques and interpretation.

Chapter Five: Getting to know YOU (and Others)
A practical walk-through on the process of character analysis of a BaZi chart.

Chapter Six: To Know is To Do - Turning Analysis into Action
Understanding the importance of taking the information to the next level with realistic action.

Chapter Seven: Using the 10 Gods and Character for Relationship, Wealth and Career Matters
Analysis techniques according to the relationship, wealth and career aspects in life.

Piecing Together the Destiny Code Puzzle
A word of advice on putting everything together.
Fiche technique
Collection :

BaZi - The Destiny Code

Pages :

356

Publication :

July 2011