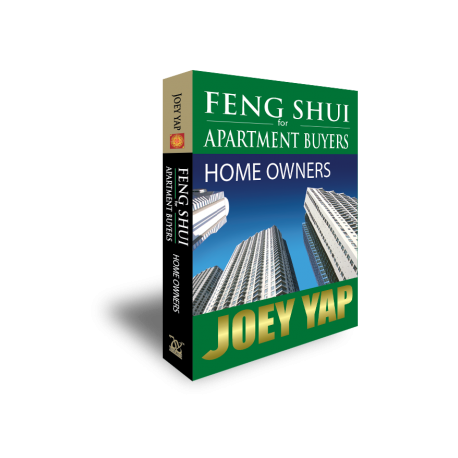  
Feng Shui for Apartment Buyers - Home Owners by Joey Yap
High Rise Feng Shui
Is it possible for one to apply Feng Shui to their apartment, condominium or high-rise residence? This question underscores the main theme of this addition to the Homebuyers' series from Joey Yap. Drawing on his extensive experience as a Feng Shui Consultant and his year of study in Hong Kong - where literally, skyscrapers sprout out like mushrooms - Joey shares with the reader the key methods and techniques employed by professional Feng Shui consultants in assessing Feng Shui in high-rise dwellings.

What You'll Learn: 
A concise, complete introduction on bedroom Feng Shui
The dos-and-don'ts of bedroom, and why
An introduction to mountains and external Feng Shui
All 16 Flying Stars chart for Period 7 and Period 8 houses
Identifying the Flying Star Chart of your property
Chapter Highlights 
Chapter One: Apartment and Houses: Feng Shui Apples and Orange?
The distinctions to applying Feng Shui in apartment and landed houses.

Chapter Two: Assessment Tools and Techniques
Steps and method to prepare you to an effective screening of Feng Shui of apartments and condominiums. 

Chapter Three: Assessing External Forms
Checking the landforms - which is the first step in the evaluation of any property - begins here. 

Chapter Four: Selecting the Building
Familiarise yourself with the criteria of a healthy building. 

Chapter Five: The Main Entrance
Your evaluation process is incomplete without an assessment on the Mouth of the Qi of the building. Learn it here.

Chapter Six: Selecting Your Unit
A look into certain problems that could be sighted only from the unit itself.

Chapter Seven: Using Flying Stars to Select a Unit
Wrap your head around the right methodologies of using The Flying Stars technique. 

Chapter Eight: The Walk Through
A basic 1-2-3 Step to screening and assessing your apartment buildings.
Data sheet
Collection:

Feng Shui for Homebuyers Series

Pages:

373

Published in:

October 2007