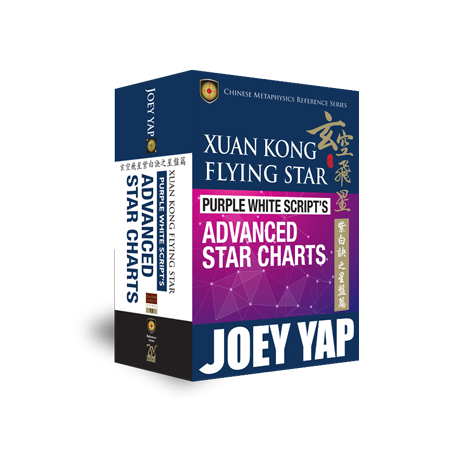  
Xuan Kong Flying Star. Purple White Script's Secret Advanced Star Charts by Joey Yap
One of the most exclusive but highly sophisticated chart plotting method revealed
Once considered a valuable secret reserved only for the privilege few, the Purple White Advanced Star Charts is a sophisticated chart plotting method entirely different from the conventional Flying Stars technique used today.

This is the first book that reveals the Purple White Advanced Star Chart's secrets to the world and will serve as a valuable guide in helping to facilitate a quick and effective application of Xuan Kong Divination.

What You'll Learn: 
Comprehensive references of all Xuan Kong Nine Stars components
An introduction to the fundamental concepts and theories of Xuan Kong Divination and the Advanced "Replacement" Star Method
All the pre-plotted Charts for the
Year Replace Year Chart 年替年,
• Month Replace Month Chart 月替月,
• Floor Replace Location Chart 層替方,
• Door Replace Room Chart 門替間.
An excellent companion for genuine enthusiasts, advanced students and professional practitioners of Xuan Kong
Chapter Highlights 
Chapter One: Introduction
Discover the origins of the Xuan Kong Purple White Script and comprehend how to predict the outcome of an event, the well being of the occupants in a house and the wealth potential of as property

Chapter Two: Xuan Kong Flying Star Purple White Script's Advanced Charts
Learn and find out which one of four types of Advance Star Charts applies to your findings 
Data sheet
Collection:

Xuan Kong Series

Pages:

1337

Published in:

November 2014

Weight:

1.402 kg