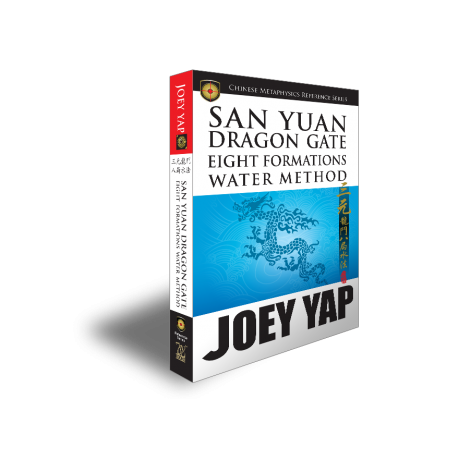  
San Yuan Dragon Gate Eight Formations Water Method by Joey Yap
Make A Splash With Water Formula
The Dragon Gate Eight Formations' main theorem refers to the utilising of Water formulas to identify and create locations with superb Feng Shui qualities. This transliterated version of an ancient classic of the San Yuan Long Men Ba Ju Shui Fa (Dragon Gate Eight Formations) highlights the tenets and theorems of all San Yuan Water Formulas, acting as an essential reference to all students and practitioners.

What You'll Learn: 
Eight Structures of the Dragon Gate Eight Formations
Theorems and formulas that can be applied using San Yuan Water
Knowledge in the classics such as Dragon Gate Eight Formations
The key to correctly assess the San Yuan Water Formula
Chapter Highlights 
Chapter One: Qian Formation
The methodology to Qian Formation is presented through diagrams and tables. 

Chapter Two: Kun Formation
An analysis on The Kun Formations and a look at its various components. 

Chapter Three: Li Formation
Uncover the essential knowledge on Li Formation.

Chapter Four: Kan Formation
The Kan Formation, and its many theorems, is the central focus of this section.

Chapter Five: Zhen Formation
Deciphering the Zhen Formation could boost your understanding. 

Chapter Six: Xun Formation
A look into the analysis of Xun Formation.

Chapter Seven: Dui Formation
Learn more on Dui Formation through charts and diagram. 

Chapter Eight: Gen Formation
Easy reference for formula and theorem of Gen Formation is spread out.
Data sheet
Collection:

Reference Series

Pages:

299

Published in:

October 2010