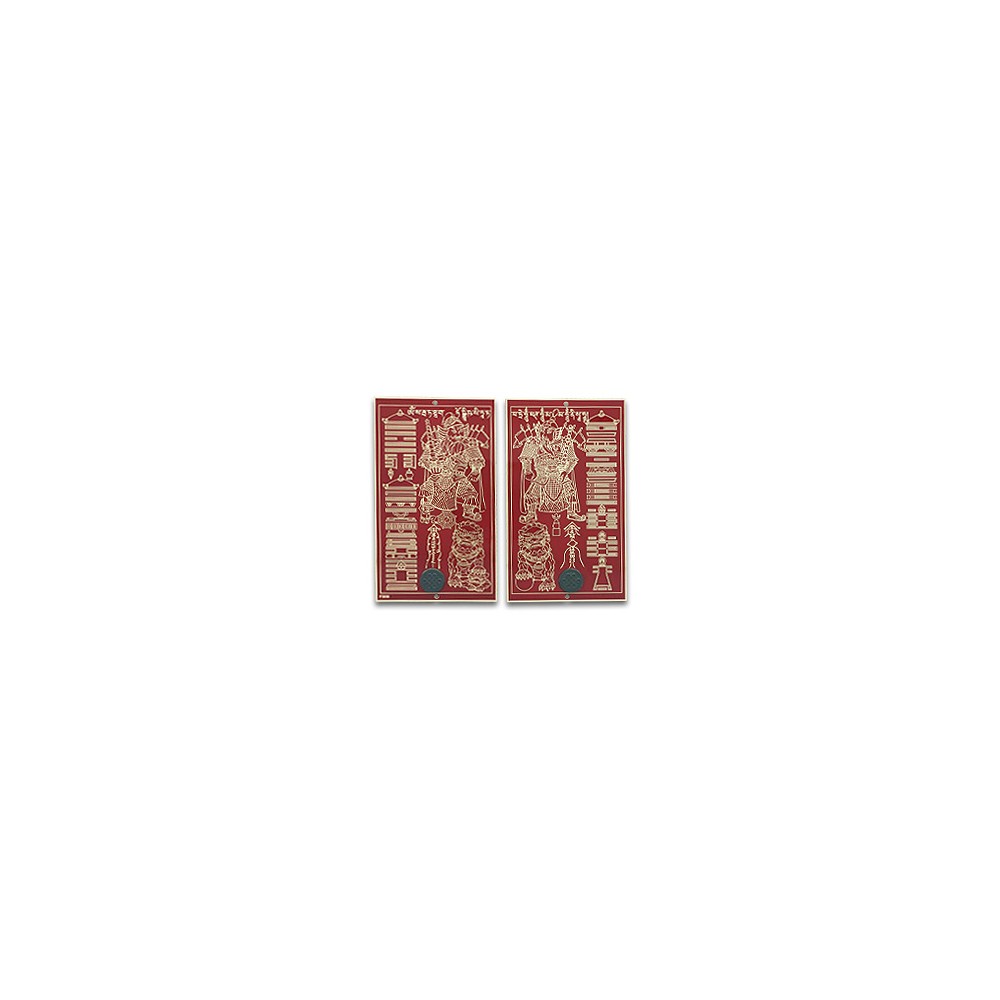  
Door Gods and Fu Dogs Plaque
Allow 3 weeks for delivery
The feng shui of the main door is the primary criterion that will determine the fortune and misfortune of a house. These stunning door plaques are powerful means of protecting and improving the door feng shui, securing your homes from misfortune, robbery, violence, nagas and evil spirits. Your door will therefore be protected every year against any detrimental effects. Whether you have a single or double door, you can display the pair on the left and right sides respectively by either taping them or screwing them on the door panel facing out. The salient features and the importance of other auspicious symbols on this door plaques can be explained and elaborated as follows:
1. Military Door Gods - more vigorous when in full military uniform, they protect your home from misfortune and evil spirits. They will correct and subdue any harmful chi keeping them out of your house at all times. Displaying the door gods can also resolve insomnia problems caused by dark energies. They will also keep robbers out of your homes.
2. Fu Dogs - The male has a globe under his paws while the female has a child under her paws. This pair of dogs are smiley and are extremely obedient creatures to their owners. This ancient guardians have been used as potent protectors in imperial palaces, homes of high officials and rich merchants. In modern times, they are invited into homes to protect against theft and robbery, to help out working people who are not at home most of the time. They can also subdue the Violent Star #7.
3. Vertical stacks of protective talismans, depicting symbols of the nagas, earth spirits, mountain spirits, gods and goddesses who influence all divisions of time - These are composed of protective seals and tetragrams formed by the addition of one horizontal line to each of the eight trigrams of the King Wen system. These create pictographs of each of the eight trigrams depicting the eight "elementals" of fire, earth, lake, heaven, water, mountain, thunder and wood. This powerful cure sought the assistance of "Cosmic Energies" to pulverize negative forces and clear blocked pathways paving you to a smoother and less aggravating year. Having great control over the cosmic elements, these symbols wield their miraculous power and exert authority over many of the more powerful spirits that bring earth, water and fire disasters. Their presence will cause surrounding spirits, who may otherwise bring mischief, to instead keep your home protected. Natural disasters such as tsunamis, thunderous storms, landslides, earthquakes and eruptions will cause no harm to your home. Appeasing your local spirits will usually at the same time get them to help you see through negativities you face at home including suppressing hostility, minimizing temperaments, subduing violence, warding off burglary and people with evil intention from harming you. You can count on its cosmic powers which are quite considerable.
4. Empowered by the Mantra of "White Umbrella Goddess" - the powerful Buddha of Protection who carries a white umbrella has the power to symbolically dispel any evil intentions of people who may want to hurt you. Be mindful that everyone is vulnerable to jealous intentions of unscrupulous people, enemies or competitors, so it is better safe than to be sorry. This mantra can also ward off black spells casted by the underlying currents of jealousy and making them harmless. The mantra is "Tadyatha Om Anale Anale, Khasame Khasame Bhaire Bhaire, Sume Sume Sarva Buddha, Adhishthana Adhishtite Svaha" which can be recited 108 times to empower the plaques..
5. Two Taoist Incantations - 1. Prevent Fire Disasters; 2. Stop Ghost from Entering the House
6. Five Element Pagoda - Signifying 5 Elements. A symbol to subdue #5-Yellow. 
7. Bagua - It repels, diminishes and dissipates poison arrow pointing to your door.